Please experience fruitful club life by enjoying seasonal scenery unique to Musashino

Whether before the start time, meal time, or after finish playing,
our club members can relax and deepen their friendship at our comfortable wood designed space.
Club Life
Relax,
Superb restaurant menu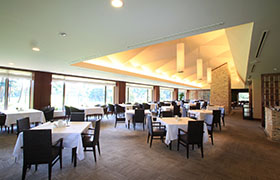 Enjoy relaxing time with our superb restaurant menu
Please have a relaxing time while enjoying the view of seasonal course expanding outside of a large window. Please enjoy the special menu created by our head chef that uses a rich amount of carefully selected seasonal ingredients
Club Life
Rest,
Having good conversation with friends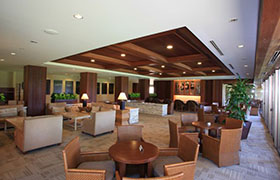 Having a good conversation with gathering of friends is what defines the club life
Here at Sayama Golf Club, we offer various facilities where players can spend a complete day filled with good conversation with friends, including, salon and terrace where players can relax, a large communal bath where players can heal their day's fatigue and café where players can rest between plays.
Club Life
Refinement,
To improve your skills…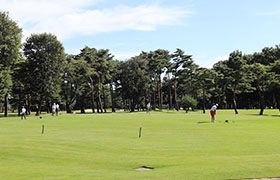 Aspiring to become better golfer….
To help improve your golf skill to the next level, our facility is equipped with superb machines and services like 250 yards driving range, putting green that simulates green condition, natural turf approach green, bunker practice ground, private lesson by professional instructor, and many more.