Guide
Dress code & Etiquette rules
We established the following rules so that players can have a pleasant time at our club.
We ask for your understanding and cooperation.

Dress code (clothing)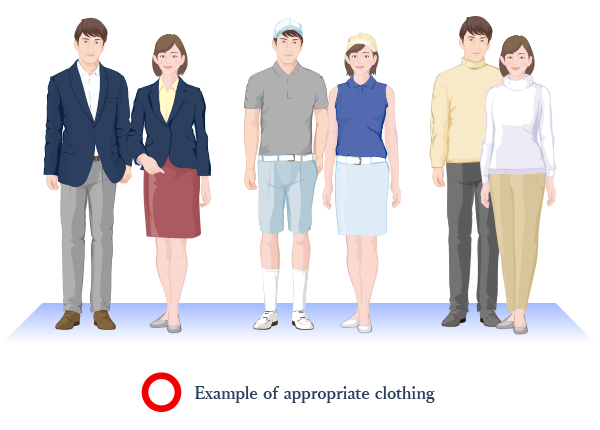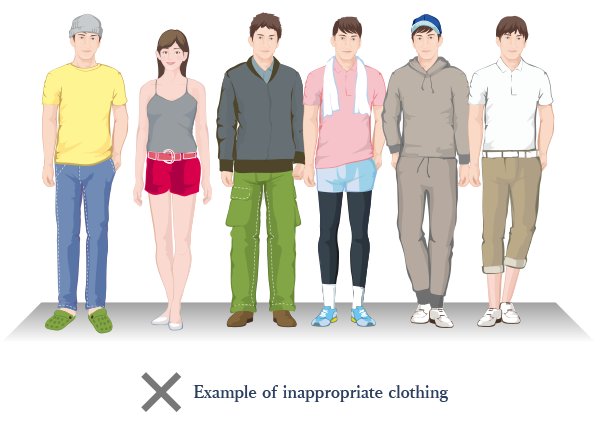 If you are a member, please make sure to inform guests about our dress code policy.
---

Etiquette rules
Please only smoke at the designated smoking area. If you decide to smoke inside the course, please smoke at locations that provide ashtrays near the teeing ground.
Please only use mobile phones at designated locations inside the clubhouse.
Please gather in front of the start point of teeing ground 10 minutes before the scheduled start time.
Please aim to finish half round within 2 hours. Please make effort to play quickly.
To speed up the game, please make sure to bring 2 to 3 clubs when the ball enters inside forest or hazard zone.
It's dangerous to swing the ball toward the group in front. Please make sure to keep adequate distance from the group in front by following the instructions of caddies.
When you enter inside the bunker, please make sure to enter/leave from the lowest spot, and smooth off the ground by yourself.
Please fix the ball mark on the green, and please do not drag the spike.
When there is more than 1 hole gap between the group in front of you, and if the group behind you is waiting to play, please allow the group behind you to go in front of your group.
Use of metal spikes is prohibited.